Fire Protection Palm Desert CA
Business & Residential Services


Licensed, Bonded and Insured
The Most Trusted in Coachella Valley CA and other desert cities
FREE ANNUAL & 5 YEAR SPRINKLER sySTEM INSPECTIONS and monitoring FOR YOUR BUSINESS safety
PROTECTING RESIDENTIAL HOMES
AND COMMERCIAL BUSINESSES
FROM FIRE SINCE 1989


Palm Desert FIRE Safety Services
Ranked As One of the Best Fire Sprinkler Inspections Companies in All California

HEADQUARTERED IN PD, CA & PROUDLY SERVING THE ENTIRE COACHELLA VALLEY
World Fire Protection Inc., recently helped Tilden-Coil Constructors, Holt Architecture, and other prime contractors in the completion of the City of Twentynine Palms' Freedom Plaza. You can check out the full details of this recent project at our project showcase page.
FIRE SPRINKLER INSTALLATION
TENANT FIRE SAFETY IMPROVEMENT

WE'RE HERE TO SERVE YOU TODAY
World Fire Protection understands that consistency is the key to greatness. We earn trust by routinely delivering the exceptional over and over. We are strategic, proactive, and purposeful in all thoughts and actions.

Get a Free quote!
Contact WFP now and request a free fast no obligation quote
Your Trusted Partner in Fire Safety and Code Compliance
In the vast landscape of fire protection companies, one name stands out – World Fire Protection. With an unwavering commitment to safeguarding lives and property, this fire inspection company is at the forefront of the industry, offering a comprehensive range of fire protection services that extend far beyond what most fire protection companies can provide.
Fire Inspection Excellence
World Fire Protection is not just a fire inspection company; it's a symbol of trust and reliability. Their fire inspection services are unparalleled, ensuring that homes, businesses, and communities are well-prepared to handle fire-related emergencies. Whether you're in Palm Desert, Palm Springs, Coachella, or Rancho Mirage, their palm desert fire inspection services are readily available to assess, recommend, and implement vital fire protection measures.
Comprehensive Fire Protection Services
What sets World Fire Protection apart from other fire protection companies is their extensive suite of services. From fire sprinkler service to fire protection inspection services, they cover it all. Their fire sprinkler contractors in Palm Desert are experts in designing and installing top-notch fire sprinkler systems, ensuring that your property is equipped with the best fire suppression systems Palm Desert can offer.
Safety First, Always
In Palm Desert and beyond, fire safety is paramount, and World Fire Protection understands this better than most. Their palm desert fire protection services are tailored to meet the unique needs of desert communities. With a focus on fire protection services Palm Desert residents can rely on, they have become an indispensable partner in ensuring the safety of homes and businesses in the region.
Unmatched Expertise
When it comes to fire sprinkler maintenance companies, World Fire Protection is in a league of its own. They bring decades of experience to the table, making them one of the best fire sprinkler companies near you. Their fire inspection company in Palm Springs ensures that residential fire sprinkler repair and maintenance are handled with precision and care.
Southern California's Trusted Choice
World Fire Protection extends its reach beyond Palm Desert, serving as a beacon of safety for all of Southern California. From fire alarm inspection companies to fire sprinkler companies in Southern California, their presence is deeply ingrained in the region's safety infrastructure.
Beyond Fire Protection
While fire protection is their core focus, World Fire Protection offers more. They understand that a holistic approach to safety includes emergency fire sprinkler service and fire alarm and sprinkler inspections. They stand as one of the best fire sprinkler inspection services providers, ensuring that all aspects of fire safety are meticulously covered.
Your Local Partner
World Fire Protection is not just a fire protection company in California; it's a part of your community. Their commitment to service extends to Indio, Palm Beach, and beyond, making them your trusted local fire protection company. Whether you need fire protection system repair or regular fire inspections, they are always at your service.
A Legacy of Trust
In a state where fire protection is non-negotiable, World Fire Protection has built a legacy of trust and reliability. They are among the top fire protection companies in California, and their dedication to ensuring the safety of homes and businesses is unwavering.
In a world where safety is paramount, World Fire Protection is your ally. They stand as a beacon of fire protection excellence, ensuring that you, your loved ones, and your property are always in safe hands. When it comes to fire safety, choose the best – choose World Fire Protection.
Serving & Monitoring Business & Residential Properties


"These guys are amazing!! We call them cuz we need it a 5yr inspection to close out our escrow and they inspected and serviced our entire warehouse within the same day, Thank you guys."
"Class act, Blake and his team were very professional and walked me through step-by-step on what they were doing and help me understand through the process, I would recommend WFP to everyone, especially those in need of yearly inspections or alarm monitoring!"
"We got an email from one of our residents praising the efforts they went through to be as un-disruptive and quiet as possible."
"Blake was a pleasure to work with. Prices were way under the other quotes we received and their service was exceptional. They also provide free annual inspections for loyal customers. They are our new source for our inspections."
"I had an urgent need on a Saturday when the pipe in my sprinkler system broke.I called Blake and they sent out a truck and worked Saturday and Sunday to get the pipe fixed and my water back on.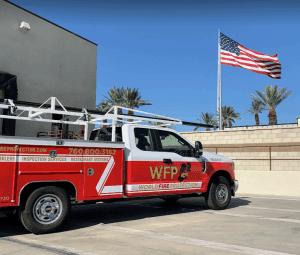 We understand that many property owners tend to end up short when it comes to fires protection services and code compliance, because compliance can be a cumbersome and convoluted process. Not to mention it can be difficult to find fire sprinkler inspection companies. Many home owners make the mistake of thinking that suppressant systems with a single alarm or extinguisher is enough to be compliant. We are professionals at heart and will take these burden off your shoulders. 
It is our job to protect your property, and do all the dirty work so that you can devote your energies to working or enjoying your home instead of worrying about fires. The search is over. As a services provider, we know sprinklers are important, but that does not mean you should shoulder all the responsibilities with regard to remaining compliant with existing codes in Palm Desert and other desert cities. 
Leave the annual compliance in our able hands. You will not regret it. As a distributor, we can inspect the systems and every single component of security systems, including the protection and fires safety sprinkler systems, industrial fire prevention systems, extinguishers, suppression, monitoring, and any other part of fire safety services that help improve security or help protect against fires. Our technicians are real fires experts and have experience inspecting and monitoring all types of safety sprinkler systems that are in use these days, and can safeguard the property when it comes to incidents. There's no other name that should be on your list when it comes to sprinkler, alarm, protection, monitoring or inspection. WFP is your best choice for your residential or commercial property.
We are  constantly undergoing training and updating our services and expertise, so we are sure to accommodate even newly released models of California residential fire sprinklers, to ensure that it is code compliant and functioning correctly. We will work closely with authorized distributors on third party products and sales. Our fire services offering employs a team of engineers and experts with extensive knowledge and full accreditation on available protection, alarm monitoring, sprinkler system, and relevant fields related to fires being an authorized distributor. Stop your search, call now to set a schedule or follow one of our social media channels and search our reviews. Our support staff is on call and ready to give you a free quote! Our services include Inspection, Kitchen Suppression, Engineering Services, and Installation Services.